AI TECHNOLOGY IDENTIFIES MULTIPLE NICKEL-COPPER-PGE SULPHIDE TARGETS AT DUCROS QNI
Vancouver, British Columbia, October 5, 2023 – Québec Nickel Corp. (CSE: QNI; FSE: 7lB; OTCQB: QNICF) ("QNI" or the "Company") is pleased to report the results from an Artificial Intelligence ("AI") nickel-sulphide-focused targeting exercise at the Company's Ducros claims which has recently been completed by ALS GoldSpot Discoveries.   
Highlights: 
AI-driven targeting algorithms have been trained using the unique geophysical, geological and geochemical fingerprint of the Ni-Cu-PGE Fortin Sill Zone; 

 

Numerous new nickel sulphide targets generated through the work across the Ducros property, including several that occur adjacent to the Fortin Sill Zone, the recently discovered Q-Zone and along strike from the Ducros Sill Trend;

 

The geological interpretation of the Ducros Property has been updated to help guide future exploration. 

 
In April 2023, QNI retained ALS GoldSpot Discoveries ("ALS GoldSpot") to undertake a comprehensive review and synthesis of the vast amount of exploration data collected at the Ducros Property to date, enhancing ongoing exploration efforts. The objectives of the study were two-fold: firstly, to generate meaningful nickel-sulphide-focused targets across the property using its proprietary SmartTARGETTM AI technology, and secondly, to use the new exploration data to reinterpret the geology underlying the Ducros claims. 
The unique fingerprint of the Ni-Cu-PGE Fortin Sill Zone was used to train the SmartTARGETTM targeting algorithms. This involved the integration and synthesis of multiple exploration datasets including the recently completed VTEMTM, airborne gravity, high-resolution drone magnetics and Lidar surveys, along with the data from two seasons worth of surface biogeochemical surveys and the Ducros diamond drilling assay, lithogeochemical and geotechnical databases. ALS GoldSpot used its Supervised Learning ("SL") and Semisupervised Learning ("SSL") algorithms on 25-metre and 10-metre datastacks during its study. 
More than a dozen new nickel-sulphide targets have been generated by the study, the locations of which can be seen in Figure 1. Of note, several of the new nickel-sulphide targets, which are characterized as having a geophysical conductive response comparable to that of the Fortin Sill Zone, lie along strike of the Fortin Sill Zone, immediately adjacent to the recently discovered Q-Zone, within the southern portion of the Ducros Ultramafic Sill Complex and along strike to the south of the Ducros Sill Trend (Figure 1). As part of the targeting exercise, several new non-conductive large-tonnage nickel-cobalt anomalies were also generated (Figure 1), similar in character to the Q-Zone and Ducros Sill Trend. 
In parallel with the AI targeting project, ALS GoldSpot also completed a litho-structural reinterpretation of the Ducros Property. Due to the relatively thick and consistent blanket of surface cover at the property, the new geological interpretation leans heavily on short wavelength airborne magnetic data in combination with the growing Ducros drillhole database. The results of this new geological interpretation can be seen in Figure 1 and are highlighted by a better understanding of the primary geological structural framework of the Ducros property and how this affects the interpreted location and extent of some key mafic-ultramafic intrusive bodies. It is expected this new geological interpretation will greatly enhance the Company's exploration efforts going forward by allowing future work programs to focus on the most prospective Ni-Cu-PGE targets within the large >15,000-hectare Ducros property.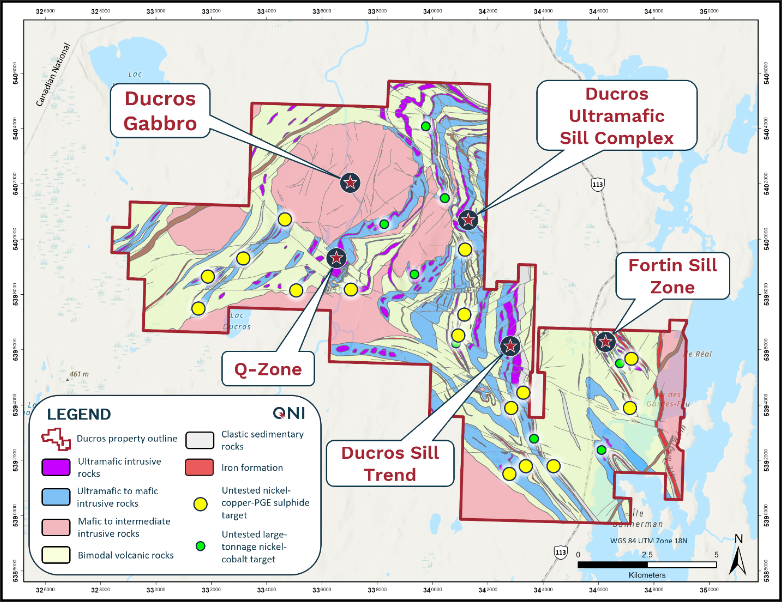 Ducros Property Exploration Update 
As announced on August 9, 2023, the Company reports the program of exploration drilling and down-hole geophysics at the Fortin Sill target area continues as planned. The new drilling at Fortin Sill is focused on exploring for additional Ni-Cu-PGE sulphides down-plunge and along strike of the main outcropping mineralized showing. Up to 5,000 metres of drilling is planned for this phase of work, which will explore at depth beneath the Ni-Cu-PGE Zone as well as more than two kilometers of strike length of prospective geology. This work will also test the geological model discussed in the Company's December 15, 2022 news release. Downhole electromagnetic geophysical surveys are being used to identify and target accumulations of conductive Ni-Cu-PGE sulphides during this phase of drilling. Since the restart of drilling in August, a total of five deep holes have been completed and are currently being logged and sampled, three of which have been surveyed with down-hole geophysics to date. This phase of drilling is expected to continue until later this fall and possibly into the winter months, depending on local ground conditions. 
Corporate Update 
The Company is happy to announce that David Patterson, Executive Chairman of QNI, has returned to his role as QNI's Chief Executive Officer effective October 1, 2023. Richard Dufresne has stepped down from the role and has resumed his duties as a Director of QNI. The Company wishes to thank Mr. Dufresne for taking the helm of the Company in April 2023 (see April 19, 2023 News Release) on short notice and successfully leading QNI through a challenging forest fire-shortened summer exploration season. 
Qualified Person 
Gary DeSchutter, M.Sc., P.Geo., Vice-President of Exploration for Québec Nickel Corp., and a Qualified Person ("QP") as defined under National Instrument 43-101 ("NI 43-101"), has reviewed, and approved the scientific and technical content of this press release.  
About ALS GoldSpot Discoveries 
ALS GoldSpot is a Canada-based group of expert geoscientists and data scientists who utilize computational methods (such as Data Analytics, Machine Learning, and numerical modelling) to assist mining and exploration clients. ALS GoldSpot offers unique processes to focus exploration efforts, minimize client risk related to exploration targeting, and optimize aspects of conventional resource exploration workflows. Its diverse geoscience and data science technical teams combine proprietary technology with in-depth expertise in mineral exploration, mineral resources, and mining to offer robust and actionable solutions to its clients and partners. While mineral exploration and mining have become data-rich environments, the value of data is lost when datasets become so large that they cannot effectively be integrated into decision making. Its expertise and solutions target such big data problems, processing or integrating underutilized data to better comprehend resource property potential. 
About Québec Nickel Corp. 
Québec Nickel Corp. is a mineral exploration company focused on acquiring, exploring, and developing critical metals (Ni-Cu-Co-PGE) projects in Québec, Canada. The Company has a 100% interest in the Ducros Property, consisting of 282 contiguous mining claims covering 15,293 hectares within the eastern portion of the Abitibi Greenstone Belt in Québec, Canada. Additional information about Québec Nickel Corp. is available at www.quebecnickel.com.  
The CSE has neither approved nor disapproved the contents of this news release. Neither the CSE nor its Market Regulator (as that term is defined in the policies of the CSE) accepts responsibility for the adequacy or accuracy of this release. 
On behalf of the Board of Directors 
David Patterson
Chief Executive Officer and Director 
1 (855) 764-2535 (QNICKEL)
CAUTIONARY AND FORWARD-LOOKING STATEMENTS 
This news release includes certain statements that may be deemed "forward-looking statements". All statements in this news release, other than statements of historical facts that address events or developments that the Company expects to occur, are forward-looking statements. Forward-looking statements are statements that are not historical facts and are generally, but not always, identified by the words "expects," "plans," "anticipates," "believes," "intends," "estimates," "projects," "potential" and similar expressions, or that events or conditions "will," "would," "may," "could" or "should" occur. Although the Company believes the expectations expressed in such forward-looking statements are based on reasonable assumptions, such statements are not guarantees of future performance, and actual results may differ materially from those in the forward-looking statements. Factors that could cause the results to differ materially from those in forward-looking statements include market prices, continued availability of capital and financing, and general economic, market, or business conditions. Investors are cautioned that such statements are not guarantees of future performance and that actual results or developments may differ materially from those projected in the forward-looking statements. Forward-looking statements are based on the beliefs, estimates, and opinions of the Company's management on the date the statements are made. Except as required by applicable securities laws, the Company undertakes no obligation to update these forward-looking statements if management's beliefs, estimates, opinions, or other factors should change.